Part 4: New Directions; 1935-1938
---
1936
---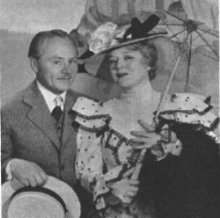 Early to Bed-
Charlie Ruggles and Mary Boland are an excellent screwball team in this charming comedy. Ruggles is a timid company clerk who has slaved for his boss with meagre rewards for 26 years. Boland is his girlfriend of 20 years who finally convinces him to get married. Unable to secure time off for his honeymoon, Ruggles takes his scatterbrained bride and follows one of his company's big buyers to a lakeside resort. His goal is to close a big sale, impress his boss, get a bonus and a months vacation. However, his excessive sleepwalking makes him the center of all kinds of adventures.
---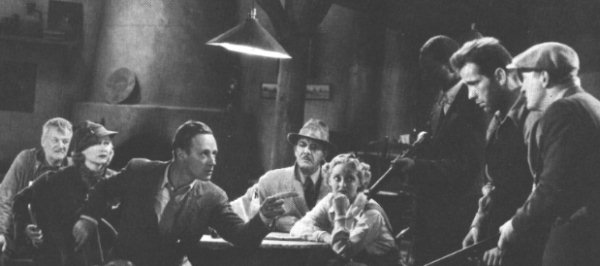 The Petrified Forest- Robert E. Sherwood's play comes to the screen with some solid acting performances. Humphrey Bogart is very convincing as Duke Mantee, an escaped gangster who holds several people hostage at a roadside eatery. Leslie Howard is a depressed poet who has forsaken society dreams and looks for a noble cause to support. A youthful Bette Davis is a lady with artistic aspirations who falls in love with Howard. Charles Grapewin adds a nice touch as the old man who idolizes the cold-blooded killer Mantee.
---
Modern Times-
Charlie Chaplin made what is essentially a silent film as late as 1936. Although there is limited sound, he apparently liked to portray his satire through actions rather than words. In this film he pokes fun at civilization becoming dehumanized by the modern machine. Charlie and the machine just don't mix, as we see by his testing of an automatic feeding machine. He does manage to make the best of his several trips to jail and love enters the picture in the form of a poor orphaned girl(Paulette Goddard). The film has all of Charlie's usual eloquent touches.
---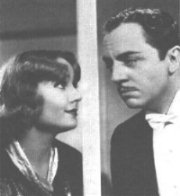 My Man Godfrey-
This film is the quintessential screwball comedy. Carole Lombard is at her best as a zany society type who hires a hobo(William Powell) to be the family butler. Powell turns out to be a man of great character and class, a pillar of stability in a madcap household. Alice Brady is perfect as Lombard's screwball mother and Eugene Pallette does well as the harried father. Other good supporting cast members are Gail Patrick as Lombard's mischievious sister, and Misha Auer as mother's protege(he does an excellent monkey immitation). This one should not be missed.
---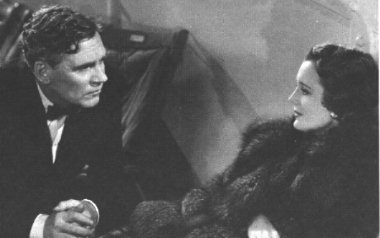 Dodsworth-
Walter Huston has to be one of the finest actors of 1930s films. For some reason I always recall his performance in Rain (1932) with Joan Crawford. In Dodsworth he lives up to expectations as the retiring owner of an automobile company who is trying to learn the life of leisure from his younger wife(Ruth Chatterton). They trip to Europe together but grow apart as she goes on a number of flings. Huston is torn between the love he has for his wife and the realization that that they are really worlds apart and not meant to be together. Mary Astor is also good as Huston's obvious alternative. Well written and acted.
---