Part 3: The Daring Films of 1930-1934
---
1934
---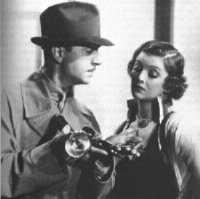 The Thin Man-
William Powell plays the amateur sleuth Nick Charles and Myrna Loy is his quick-witted wife Nora. In a good blend of comedy and suspense, Powell and Loy are a perfectly matched couple. The plot twists just enough to keep everyone guessing at who the serial murderer is. An array of supporting characters are well played by Nat Pendleton, Maureen O'Sullivan, and Porter Hall, among others. The definitive who-done-it.
---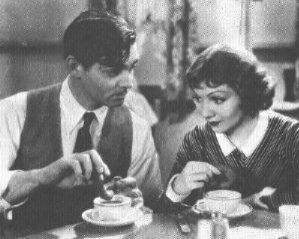 It Happened One Night-
This classic Frank Capra project was the first film to win all 4 major academy awards (best film, director, lead actor, and lead actress). Claudette Colbert plays a glamorous socialite who runs away from her father's control and meets up with a street-smart reporter played by Clark Gable. She is out to prove her independence but finds that with Gable looking out for her, life is entertaining and different. He is keenly interested in writing the hot story of her escapades while protecting her from the dangers of the real world. Watch where she turns the tables and teaches him how to hitchhike. Delightfully entertaining.
---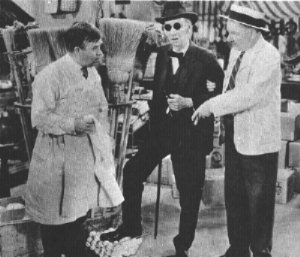 It's a Gift-
W.C. Fields plays a mild mannered grocery store owner who's overbearing wife is constantly berating him. Some of the great comedy routines include Charles Sellon as 'Mr. Muckle', the blind man, who visits the grocery and manages to break nearly everything with his wandering cane. Meanwhile Baby LeRoy leaks all the molasses out of its keg only to have his mother blame Fields for making a mess of the child's shoes. While moving his family to California, Fields mistakes an expensive estate for a picnic area and, upon crashing into a statue of the Venus de Milo, exclaims "she ran out right in front of me!" Classic comedy.
---
The Gay Divorcee-
Fred Astaire plays a professional dancer accompanying his lawyer friend(Edward Everett Horton) to a Brighton hotel to help a young lady(Ginger Rogers) 'arrange' a divorce. Rogers is married to a geologist who she rarely sees and Astaire is more than anxious to help free her from the marriage. Along the way we see some great dance numbers including The Continental and Cole Porter's classic Night and Day. Some excellent comedic support is provided by a scatterbrained Alice Brady, Eric Blore as the waiter, and Erik Rhodes as a dim-witted Casanova. A great lighthearted musical/comedy.
---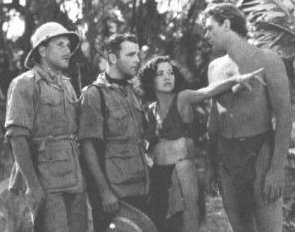 Tarzan and His Mate-
Widely regarded as the best Tarzan movie of the Weissmuller/O'Sullivan series, this entry is packed with action from start to finish. It also tested code compliance with its risque costumes and daring underwater swimming sequences. Neil Hamilton returns as Harry Holt to lead an ivory expedition to the elephant burial grounds. He also has hopes that Jane will be ready to return to civilization, but by now Jane is fully accustomed to jungle living. Tarzan battles almost every wild beast imaginable as danger constantly surfaces.
---