Part 5: Hollywood's Greatest Year; 1939
Most of the experts recognize 1939 as the greatest of all years of Hollywood film making, before or since. Who am I to argue? It is truly phenomenal that such a number of excellent classics were all released in one year. The incredible list includes Gone With the Wind, The Wizard of Oz, Goodbye, Mr. Chips, Stagecoach, Wuthering Heights, Midnight, Gunga Din, Ninotchka, Mr. Smith Goes to Washington, Destry Rides Again, Dark Victory, The Women, and The Old Maid. Here are my favorites from this hallowed year.
---
1939
---
The Roaring Twenties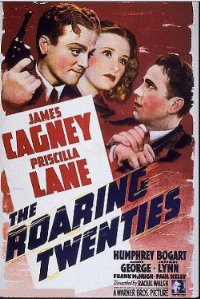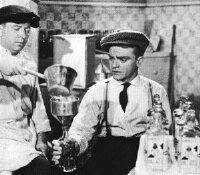 The story of a returning WWI veteran and his life of crime is followed through the prohibition years. James Cagney is the central character who can't get a regular job after the war and instead sets up an illegal liquor distribution racket. He is a mobster with some redeeming qualities as he falls in love with Priscilla Lane, a young entertainer who he helps to success. Life hits the skids after his girl leaves him for a young lawyer (Jeffrey Lynn) and the lucrative booze trade fizzles. Warner Brothers' reputation for fast paced gangster films is not lost in the hands of director Raoul Walsh. Humphrey Bogart, Frank McHugh, and Gladys George all handle supporting roles adeptly.
---
Destry Rides Again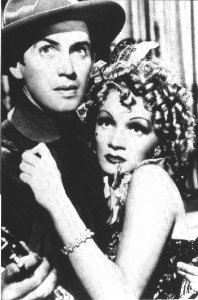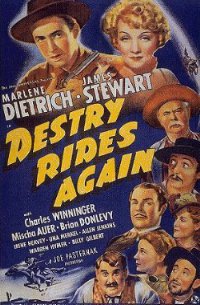 Jimmy Stewart takes his 'gentle man' image to the wild west town of Bottleneck and accepts the job of town sheriff. As Tom Destry Jr. he refuses to wear a gun because in his words "If I had a gun, why, one of us might have got hurt, and it might have been me." Stewart's first meeting with hot tempered saloon singer Frenchy(Marlene Dietrich) is when he breaks up a cat fight she is in by dousing both ladies with water. Stewart continues his mild mannered ways to confront abrasive Brian Donlevy, the man who's gang really runs Bottleneck. This western is definitely not standard fare. Seeing Dietrich shed her icy cool personna to be a flamboyant fighter adds to the appeal. A strong supporting cast includes Donlevy, Charles Winninger, Mischa Auer, Una Merkel, and Samuel S. Hinds.
---
The Hunchback of Notre Dame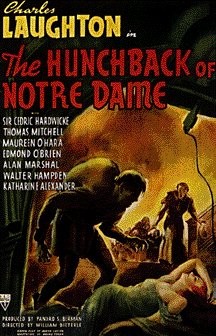 Charles Laughton gives a fine performance as the deaf, deformed bell ringer of Notre Dame Cathedral, Quasimodo. Maureen O'Hara plays Esmerelda, the enchanting gypsy dancer who is admired by all but stands trial for a murder that she did not commit. Sir Cedric Hardwicke is also good as the evil chief justice who tries to convict her despite the enchanting spell she has over him. There is plenty of excellent supporting acting by Thomas Mitchell as the king of thieves, Harry Davenport as the King, and Edmond O'Brien in his debut as the poet Gringoire. The impact of the film is strongly enhanced by the period sets of Paris and the musical direction of Alfred Newman.
---
Dark Victory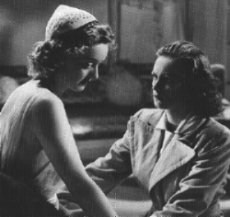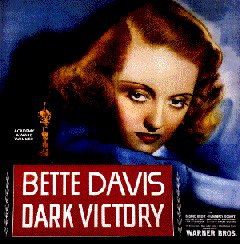 Bette Davis shows her uncanny versatility in the poignant story of a young vibrant heiress who must eventually succumb to a brain tumor. Her zest for life is infectious and wins the heart of her brain specialist (sturdily played by George Brent). Davis, who was going through personal traumas of her own during filming, tried to leave the film at one point because she claimed to identify so closely with the character that she feared a nervous breakdown. Luckily she stayed and we can watch the eye-popping performance today. Geraldine Fitzgerald, Ronald Reagan, and Humphrey Bogart are also in the cast, but it is Davis who steals the show.
---
Midnight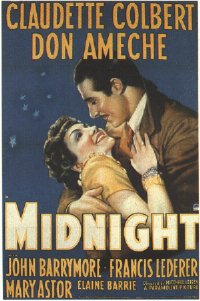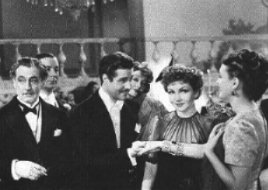 Billy Wilder and Charles Brackett did some excellent writing for this film that helps lift it above many other romantic comedies. Claudette Colbert masquerades as a Baroness to weasel her way into the high society crowd and do some gold-digging. The chaotic story twists and turns adventurously. Don Ameche is excellent as the Hungarian taxi driver who, after a botched divorce proceeding, ends up with Colbert. At this point in his life John Barrymore is burdened with a drinking problem but somehow his performance as Mary Astor's neglected husband is still witty and masterful. The cast artfully pokes fun at the upper classes. Depression audiences could be satisfied with this and the fact that the heroine ends up with the 'poor guy' in the end.
---