Part 4: New Directions; 1935-1938
---
1938
---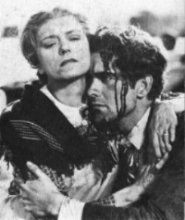 In Old Chicago-
Alice Brady won an Oscar for best supporting actress(and deserved it) as Molly O'Leary, the mother of two headstrong men in 19th Century Chicago. Tyrone Power and Don Ameche are the sons, one a corrupt saloon owner, the other a lawyer who runs for mayor. Alice Faye is the saloon singer who aims to marry her business partner Power. Other good supporting roles are played by Brian Donlevy and squeeky-voiced Andy Devine. The set was constructed in consultation with the Chicago Historical Society to help realistically recreate the times of the Chicago fire of 1871.
---
You Can't Take it With You- Frank Capra hits back at the heart of the depression by couching comedy with a message- 'live for today and enjoy yourself'. Jean Arthur is a responsible daughter in a wacky household. She is in love with the son of a Wall Street millionaire(James Stewart) but how will she impress his upper class father with the din of activity at her home? A great cast includes Lionel Barrymore, Edward Arnold, Mischa Auer, Spring Byington, Eddie(Rochester) Anderson, Donald Meek, Halliwell Hobbes, Ann Miller, Dub Taylor, Samuel S. Hinds, and Harry Davenport.
---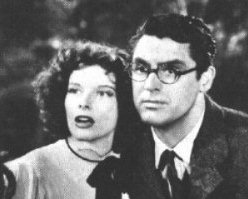 Bringing Up Baby-
The everyday life of a bespectacled paleontologist(Cary Grant) is thrown into turmoil when he meets a madcap socialite(Katharine Hepburn) and her pet leopard "Baby". Howard Hawks directs this fast-paced, snappy-dialogued screwball masterpiece. Grant is looking forward to his impending marriage and the completion of his Brontosaurus skeleton with a treasured 'intercostal clavicle' when Hepburn pops into his life. The adventures that follow are classic screwball comedy.
---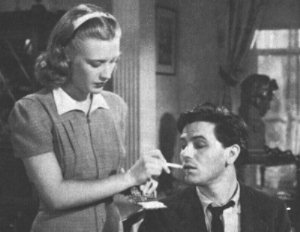 Four Daughters-
Well acted story of a small town family with a quartet of musically talented girls and the men in their lives. The Lane sisters(Priscilla, Lola, and Rosemary) along with Gale Page handle the lead roles. John Garfield enters the story as a cynical, lazy composer who steals the heart of one of the daughters. It was his first film and it sent him on to stardom. A good supporting cast includes Claude Rains, May Robson, Frank McHugh, Jeffrey Lynn and Dick Foran.
---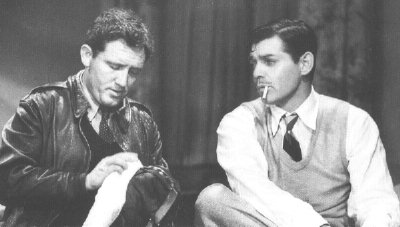 Test Pilot-
Clark Gable is a daring drinking pilot who's girl is constantly worrying about impending doom. One of a few films displaying the uncanny rapport between Gable and Spencer Tracy, who plays the pilot's faithful friend and mechanic. Strong acting carries the story and heightens the feeling behind a final unexpected tragedy. Full of action and special effects.
---